The Board of Representatives is pleased to announce that after a thorough search process, we have hired Mike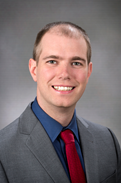 Houston as our General Manager. Prior to joining the Co-op, Mike was Store Manager at Dawson's Market in Rockville for six years. Not only does Mike have many years of management level experience in the natural food industry, he brings a passion and strong commitment to environmental stewardship. Under his leadership, Dawson's was awarded the outstanding Leadership in Environmental Practices from the Rockville Mayor and City Council in 2017. Mike also brings a commitment to community and to supporting local suppliers. Dawson's also received a Community Partnership award in 2015. We believe that Mike will be a great General Manager and are excited to have him on board.
We are extremely grateful for the commitment and hard work shown by all of our employees. In particular, we thank Hussein Choteka, who courageously stepped up to keep our store successful during such a challenging time. Hussein will return to his previous position as Store Manager, working closely with our new General Manager Mike Houston.