Healthy Food
Locally Sourced
Community Owned
Takoma Park Silver Spring Co-op promotes healthful living by offering wholesome foods, high quality produce and community resources in a clean, friendly and cooperative grocery store…that you can own!

Updated 5/23
Introducing streamlined curbside shopping!

Quick, safe, essentials now available for take out. Check out current our menu and stop by any of the week between 9am and 7pm!
Plus, a la carte produce is back! And, we've added some local prepared foods with more coming soon!
Here are the answers to your frequently asked questions:
How soon will I be able to pick up my order?
Currently, orders are being processed in about 24 hours. You'll receive an email when your order is ready for pick up.
I'm interested in the prepacked food bags. How can I learn what's in there?
These are meant to be a quick-shop option for folks who can be flexible about what they eat. Their contents vary based on our stock, but will always only include our usual high-quality, natural and organic foods.
I picked up my order, but there are some missing items. What should I do?
Check the invoice you received when we let you know your order was ready for pick up. If you don't see the item there, it was out of stock and we did not charge you for it. If the item is listed on that invoice, then it got left behind somehow. Please email us at orders@tpss.coop for a refund.
I don't see my owner discount on my invoice? Did I do something wrong?
Nope! As long as you check the box at check out requesting to use your owner discount, we'll apply it you your final invoice. If you still don't see the discount applied when you receive the email from us saying your order is ready, please reach out to orders@tpss.coop.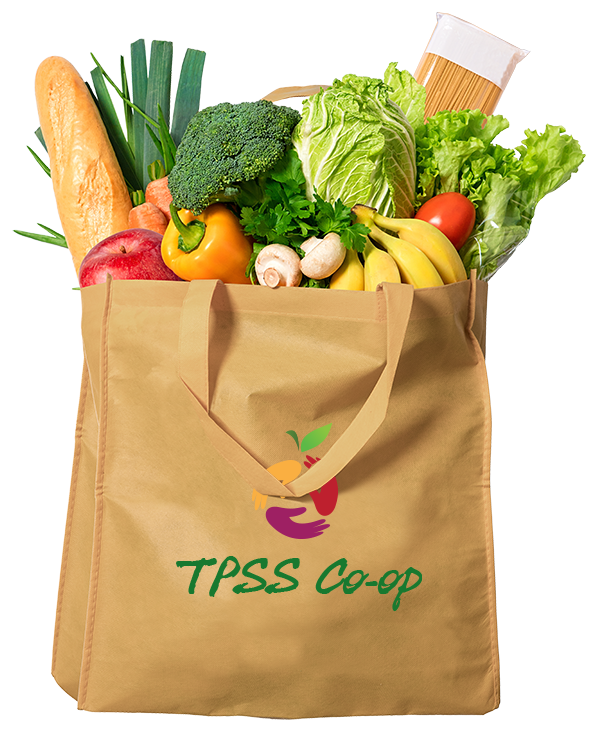 Ownership benefits include:
A vote and voice in Co-op governance
Financial beneifits, including:

10% off one purchase of your choosing each month
Owner-only discounts on select items around the store
10% off full case special orders

Other perks

A free co-op bag
Eligibility to join the Interior Federal Credit Union

BOOSTS LOCAL ECONOMY
TPSS Co-op is committed to selling the products of local growers and producers as much as possible. The Co-op now buys from over 200 local businesses. In 2018, we expanded our access to dozens more regional products by entering into a relationship with Common Market, a regional food hub that aggregates and distributes products from local growers and producers in the mid-Atlantic region.

INCREASES ACCESS TO HEALTH FOODS
The TPSS Co-op promotes healthful living by offering wholesome foods and high-quality wellness products. Our staff is knowledgeable and friendly, offering useful information about our products. We offer monthly discounts and senior discounts, as well as payment of our $100 lifetime membership fee on installment.

FOSTERS ACTIVE COMMUNITIES
As a member-owned business, TPSS Co-op fosters active community by democratically electing member-owners to the board of representatives; inviting comments at board meetings, twice-yearly member meetings, and special events; and keeping our membership informed through our website, social media, and e-mails. We also support the greater community of Takoma Park/Silver Spring through outreach programs, community events, and charitable donations.