6/4/21
"If you're going to be late, make an entrance"
I started composing this email over 6 months ago, excited to celebrate the fact that January 17th 2021 was the 40th anniversary of the opening of the Sligo Avenue Co-op store. Then life threw me 12 or 13 curveballs and here we are. So, at this rate, you can expect my May Day email in September. I'm relieved to have received notice that NDC has rescinded their termination notice of our parking lot sublease and a further update is at the bottom of this message.  
In all seriousness, I am so excited to shepherd our community's Co-op into its ruby anniversary and to finally begin thinking about what the next 40 will bring. We've grown from a few hundred members to over ten thousand. We've seen sales increase from $6,885 in the store's first full week to becoming one of the highest sales per square foot Co-ops in the country with over $10 million in annual revenue.  We've gone from members stocking the shelves to having 50 staff members with good wages, excellent benefits and a union. We've gone from asking for support to giving support to non-profits, community partners and those in need.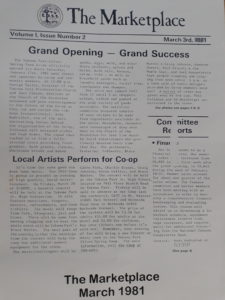 For context, the Co-op incorporated just 10 years after the first Earth Day helped to bring awareness to environmental issues including the food system. We were already 10 years old when the 1990 Organic Standards Act was signed by congress, creating Organic food and land management standards for the first time. Ahead of the trend doesn't even begin to describe the fact that our little Co-op has been selling real food and offering an alternative economic model for decades.  
While I can't speak for all the challenges our Co-op has ever endured, I can say the last 15 months, nearly 500 days, have been difficult.  No business was fully prepared for the effects of the Covid-19 pandemic, but operating a 4200 square foot grocery store that typically does 1000 transactions per day is not exactly a cinch for the social distancing era.  
With a dedicated and malleable staff and invaluable support from owners and shoppers, plus a new online ordering platform, we've been able to keep going. Sales are down significantly over the course of the pandemic but our commitment to staff and public safety have always been our highest priority. The Co-op has strong cash reserves and an experienced management team to ensure we make it to the other side of the pandemic.  
The store is still keeping Covid protocols in place, including mask requirements, but we recently expanded back to our typical hours, 8 am to 10pm daily. We are monitoring community transmission levels and always prioritizing the safety of staff and customers.    
As for the aforementioned future, there are some exciting things I want to highlight. Our Front End Manager Mercy Belhu was just promoted to Assistant Store Manager and will now work closely with Store Manager Hussein Choteka to oversee our daily operations.  Longtime Wellness department staff member Kay Rashid was promoted to Front End Manager. Give Mercy and Kay a hearty congratulations when you see them.  
I also want to pass along congratulations to the Greenbelt Co-op which recently became a National Cooperative Grocers (NCG) member.  Only 212 communities in the entire country have Co-op grocers like TPSS and Greenbelt. NCG membership is the definition of the cooperative principle 'Cooperation Among Co-ops' and we're very lucky to have a community of support that surrounds and sustains both stores.  
I'm very proud of our community partners that do amazing and important work, especially in the last year. Crossroads Community Food Network supports small food businesses including at the Crossroads Farmer's Market. The market just kicked off its 15th season recently and TPSS is a proud sponsor for the second year. Food Justice DMV and Small Things Matter have done incredible food distributions from both the Co-op and beyond. The Montgomery County Food Council has helped to lead the county's Food Security Task Force throughout the pandemic. We're part of a truly caring community that has stepped up to help those in need, simply because it's the right thing to do.  
My first blog post at TPSS was about counting days, so the timing is impeccable that June 1st was my 1000th day as General Manager of the Co-op. I can't begin to thank each of you for your support. Whether you shop daily or once a year. Whether you joined in 1981 or yesterday. The Co-op is made up of each of us individually coming together to create a better food system. Here's to 40 incredible years, and many many more to come.  
-Mike Houston
General Manager